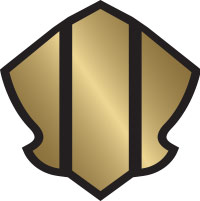 Greetings, readers! This week I'm going to be going over all of the new additions to EDH from Wizards' newest product for the format, Commander 2013! Without further ado, let's jump right into it!
How I rate cards:
5.0 – Uncuttable. A pillar of the format. (Sol Ring, Command Tower)
4.0 – Power player. Really useful in a number of strategies and compliments a large number of generals in its colors extremely well. (Seedborn Muse, Mirari's Wake)
3.0 – Decent card. Sometimes a necessity, sometimes a convenience. Usually the last cards to be cut. (Notion Thief, Purphoros, God of the Forge)
2.0 – Meh card. Useful in a specific strategy, but hindered by narrow function or not enough flexibility. (Shield of the Oversoul, Notorious Throng)
1.0 – Bad card. Don't bother with this. (Devout Invocation, Emarra Tandris)
Act of Authority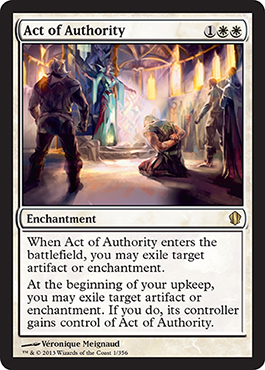 Rating – 2.0
It's good that the reviews start with one of these, because it lets me get my view on effects like these out in the open right off the bat; I'm not a fan of this type of politically-inclined effect. Giving your opponent the choice the screw you over is extremely iffy, and not something I want when I cast a spell.
On the flipside, despite being hard to make work, Act of Authority is quite a powerful card. Being able to consistently get rid of whichever problem enchantment is on the board forever is impossible to ignore. I'm sure there are decks out there that would want an effect like this, but I think it's harder for a deck to not play a busted as hell artifact or enchantment and just cut this instead. That being said, repeatable removal is always going to be powerful, so there's potential. I'm just saying, there's a lot of downside.
Angel of Finality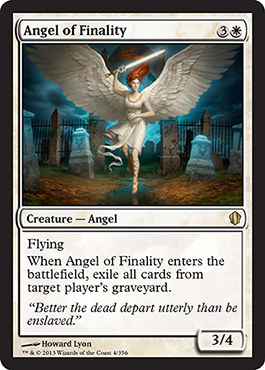 Rating – 2.0
White getting a Loaming Shaman is difficult to truly evaluate, but honestly, there are a number of better options in the color. Rest in Peace is the first and foremost, being more difficult to remove as an enchantment, and it's cheaper to boot. If you truly need a creature to fulfill this role, I prefer Stonecloaker, as it has flash, is reusable, and has more overall utility.
Curse of the Forsaken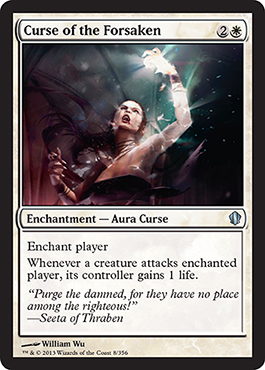 Rating – 1.5
This year, our Commander product has given us a new cycle of an oft-loved mechanic from Innistrad, the Curse, to apply where necessary. Curses were a fantastic way of convincing a table to kill someone, but to be honest, the incentive Curse of the Forsaken provides is minimal to non-existent. There are applications, but they're extremely narrow; Archangel of Thune or Drogskol Reaver are really the only two decent options. Kavu Predator also works, but really, you're better off running Soul Warden for a continuous lifegain effect.
Darksteel Mutation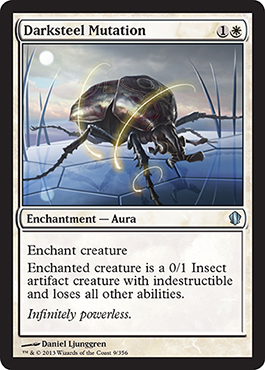 Rating – 3.0
This I can get behind. Being able to strip a creature of everything it has is impossible to ignore, but there are downsides to an effect like this. It's definitely superior to Arrest when you're not the deck who wants to attack without trample into this, but there are political applications in making the creature indestructible. There's obviously an argument against it if your opponent can just rid you of the enchantment, because that means the threat of the creature you're enchanting is on again, but sometimes, killing it can just not be effective enough, and your opponents will in some cases be hard-pressed to remove this, making it very useful.
It also gets a point in my books just for the flavor text. Overall, a well-designed card.
Mystic Barrier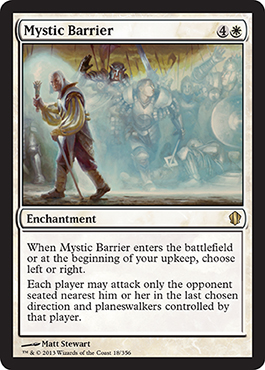 Rating – 3.5
Pillowfort has a new, very powerful friend. It's a bit difficult to understand on the surface, but if your goal is to not get attacked period, being next to the creatureless control deck can be pretty big game. It also helps point your opponents in the right direction when you want someone very dead.
Its second strength comes from its nonpermanent combat lock. Being able to reset it every turn is extremely big game, and I for one am very much looking forward to trying this.
Serene Master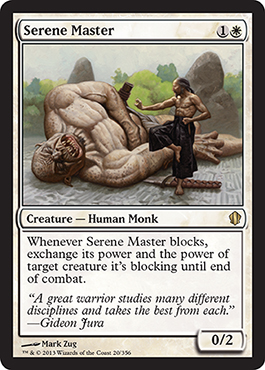 Rating – 2.0
Serene Master is a card I'm a little polarized on, but I have a very short and sweet opinion on it. I like what it does, but at the same time, I don't like what it does. Creatures that are combat-oriented should be decent on both defense and offense, and this isn't. That being said, its effect is a great deterrent to attackers.
Tempt with Glory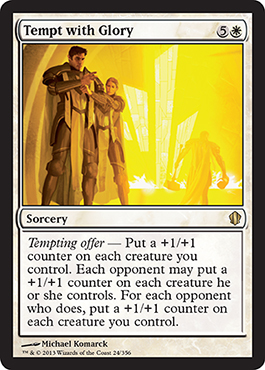 Rating – 1.5
The Tempting Offer mechanic is actually quite powerful, much moreso than Join Forces was, but honestly, this has to be the worst of the cycle. It's very unlikely your opponents will take the offer, as most opponents either won't have creatures or the political fallout of the card won't be worth the fact that you're making your army massive, as most decks that would run this are usually interesting in turning their guys sideways, so playing the razor's edge of politics is very risky, as it's easy to get burned unless you're holding Rout or something similar.
Unexpectedly Absent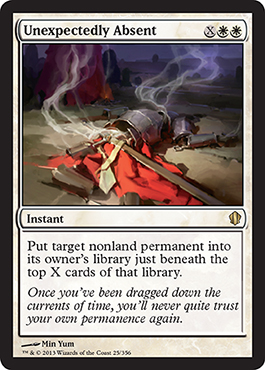 Rating – 4.0
Now this is a card. Unexpectedly Absent is by far the real deal, and is incredibly strong, replacing Oblation in almost every situation, and it can just be a tempo play if your opponent isn't shuffling. This does disgusting things against shuffle-heavy decks in addition to Maelstrom Wanderer lists. Expect the unexpected when your opponent's holding double white up.
Curse of Inertia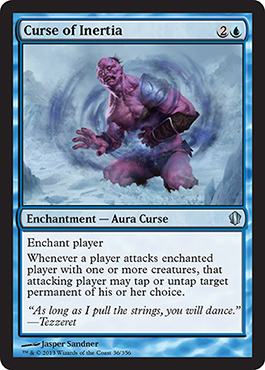 Rating – 1.5
This effect is always going to be decent, due to it being repeatable, but honestly, despite having potential, I'm not sure where. It also doesn't help that it only triggers once regardless of how many creatures attack, and your opponents get this effect as well.
Diviner Spirit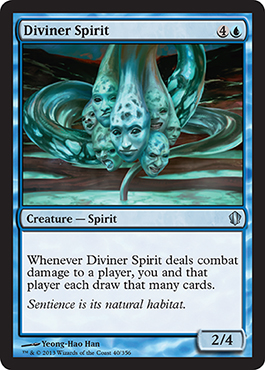 Rating – 2.5
I like this sort of effect, if only because I know I could get away with attacking my fellow control player with this and laugh straight to the bank with this (in addition to dropping bows and whatnot). That being said, it's absurdly expensive for what it does. (It could be 3 mana, unblockable, and a 1/1, have the same effect, and be infinitely better)
Djinn of Infinite Deceits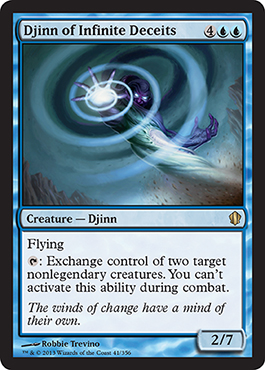 Rating – 3.0
The Djinn brings an effect equal parts politics and power to the table, making it rather strong in concept, but the biggest issue holding the Djinn back is the fact that its effect obviously plays best with tokens, and outside of Talrand, Sky Summoner, it's hard to make this effect get its best-case scenario.
Illusionist's Gambit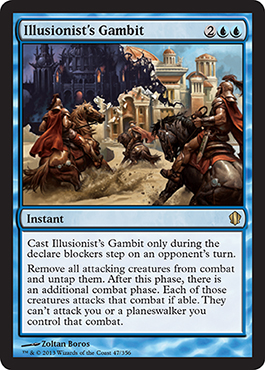 Rating – 4.5
Easily my favorite card of the expansion, Illusionist's Gambit is absolutely insane if played correctly, and can completely blow out opponents determined to take you out in one fell swoop. Craterhoof Behemoth is a card, and the Gambit is to that as Krosan Grip is to Sensei's Divining Top. The best part about this card that makes it so amazing is that it grants you the political reprieve of not blanking your opponents' cards; your opponent will still get the most out of the resources they're committing to in order to kill you, they'll just be killing someone else instead. Stories of this card will be told again and again, and I can't wait to tell mine.
Order of Succession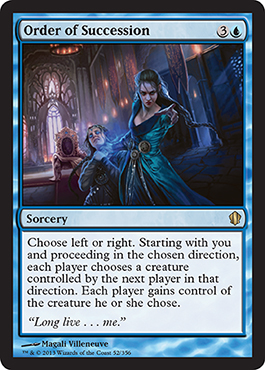 Rating – 2.5
There's a monumental gap between this card's best-case/worst-case scenario. At its best, you're stealing a suited-up Uril, the Miststalker or Sigarda, Host of Herons (because, yes, this can target the Hexproof Five), and using it to kill its controller, For Value (TM). Worst-case, you draw this in a clogged board state with a pivotal creature in play, and until it leaves, it sits in your hand doing nothing. I'm not going to dismiss how powerful the best-case is, and I very much endorse the use of this if your meta leans on hexproof-based aggro, but otherwise, I don't know that this effect will be of any use to you.
Tempt with Reflections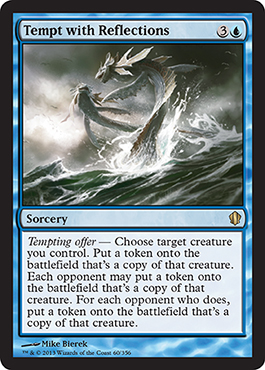 Rating – 2.0
Like Order of Succession, this card can best be described as "swingy". If the effect of the creature you're copying only benefits you, opponents will more than likely not take the offer, but if everyone benefits from it, it can single-handedly turn a game on its head. I'm not so sure I would rather play this when I could just play Rite of Replication and be done with it, however.
Tidal Force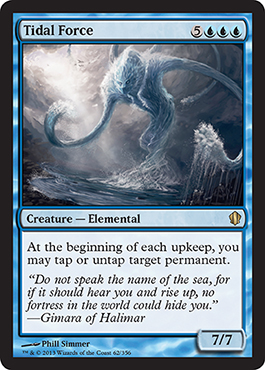 Rating – 1.0
I'm sorry, but I can't for the life of me see why people would want to run this. I mean, if you have flash, too much mana to know what to do with, and enough cheap things to do, I suppose, but that's a steep offer. In addition, as a huge advocate of both Seedborn Muse and Prophet of Kruphix, I'm spoiled by more powerful effects, so this just seems like something underwhelming and ignorable.
True-Name Nemesis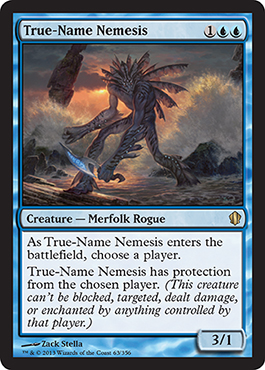 Rating – 1.5
I get it. Legacy is a format. For EDH, I don't see the point of this. I understand Planeswalkers exist, but Planeswalkers are in general very poor in EDH unless you run an army of them. In that situation, the Nemesis is excellent. Otherwise, True-Name Nemesis will never do its intended purpose; kill someone very dead. Without hexproof and the legendary supertype, it's just not gonna happen.
Baleful Force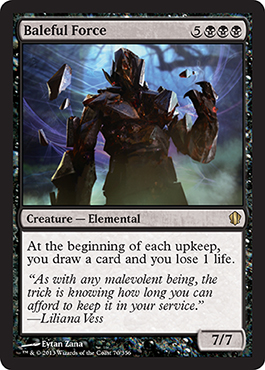 Rating – 3.5
Here's a card I, and I'm sure a lot of people, really enjoy. There is no greater effect in Magic in being able to say, "Yeah, I draw one card per turn, but what about more?" Drawing cards is always going to be an effect players can universally get behind, and adding a solid body to that makes it all the better. His value only increases as you have more players, making him all-around a solid card.
Curse of Shallow Graves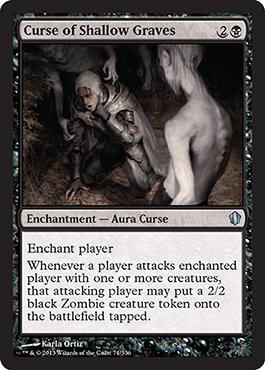 Rating – 2.0
It's narrow, I'm not going to lie, but there are situations where this can be very useful. Making more creatures is always great incentive to get players to attack someone, and if you're the Grave Pact player, this makes the effect that much more powerful. That being said, this effect triggering once per combat makes it underwhelming overall.
Fell Shepherd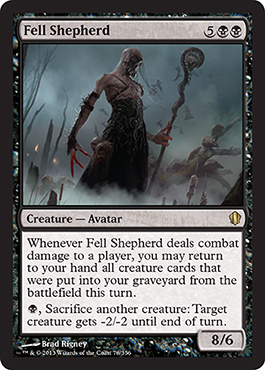 Rating – 2.0
I'm not going to lie and tell you I'm a fan of this effect, because I'm not; returning creatures that have died to your hand rather than to play is just poor tempo overall. There are better cards that do this effect, and triggering off hitting a player is both its greatest strength (because you can respond by Disfigureing everything) and its greatest weakness (6 toughness is really a huge detriment). Almost every deck that wants this usually plays either green or white, and usually have better effects than this to accomplish what the Shepherd does, such as Karmic Guide with Reveillark, Sun Titan, and even Gleancrawler.
Hooded Horror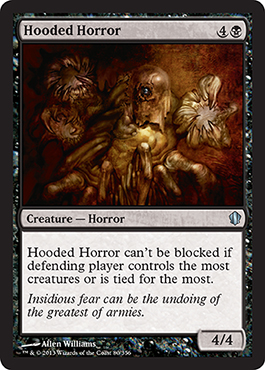 Rating – 1.0
I really don't know what this card is even supposed to accomplish. It's far too overcosted and doesn't do anything meaningful aside from attacking, and there are cheaper, higher-utility creatures that fulfill the role better.
Ophiomancer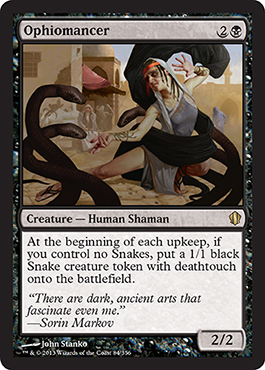 Rating – 3.0
I actually really enjoy what Ophiomancer does. There's a soft spot in my heart for an effect like this, as it deters attackers incredibly well, and plays extremely well with a sac outlet with a strong upside (Attrition, Viscera Seer, Tymaret, the Murder King, Lyzolda, the Blood Witch). Its limitation is being a creature, as it very often ends up being the collateral damage of a sweeper. Aside from that, it's a very strong card and a powerful roleplayer in more than a few decks in its colors.
Price of Knowledge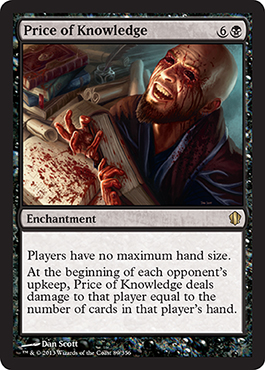 Rating – 2.0
Calling this black's Vicious Shadows is very easy, but is it really? The fact that it only does it once, does it at a fixed time, and still costs 7 when it could easily have costed 5 just makes it feel very…underwhelming when the two compare. The effect also feels very red to me, aside from giving everyone a Reliquary Tower, which does indeed feel like an effect black would have. The applications are narrow, but they're there. Seizan, Perverter of Truth is one such card that would get a kick out of this.
Tempt with Immortality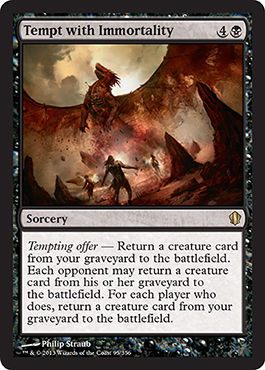 Rating – 3.0
This is a pretty decent effect overall. There are a number of times you'll cast this as a Zombify, but there are applications of undoing a sweeper that make this card extremely good to use. Target Sepluchral Primordial, For Value (TM).
Toxic Deluge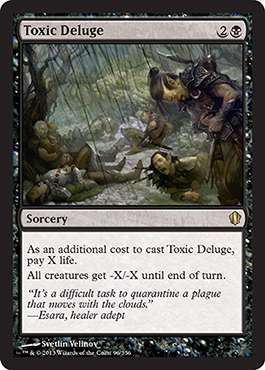 Rating – 4.0
Now this is what I'm talking about. Black's sweepers have generally been pretty shaky overall, being powerful but either mana-intensive (Black Sun's Zenith, Decree of Pain, Life's Finale), or absurdly expensive (Damnation). Toxic Deluge is not only neither of those things (fingers crossed it stays that way), but is what I like to call the "unconditional sweeper"; a sweeper that gets around regeneration and indestructible at the same time. Oh, and it also costs 3 mana to boot. So there's that. There's a lot of value here, and while it comes with a price, more often than not, that price is well worth it. Mutilate, you have a new contender.
Curse of Chaos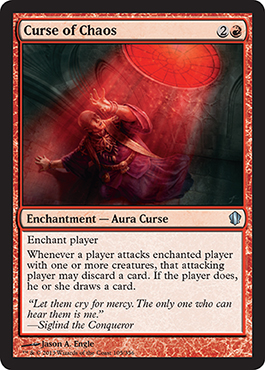 Rating – 1.0
I think the three curses have this one problem where they contain the text "one or more creatures", which hold back otherwise extremely powerful cards, relegating them to absolute trash. If you want this effect that badly, there are plenty of creatures who do it better, such as Academy Raiders[card] and [card]Rummaging Goblin, while not giving your opponents this effect as well. For what it costs, this effect feels very underwhelming.
From the Ashes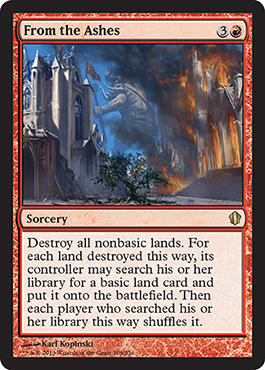 Rating – 3.0
I'm a big fan of this for the same reason I'm sure a lot of people are – because Ruination, while being by far one of the most insanely powerful cards in red's entire card pool, is extremely non-political in nature. I've had outspoken hate of the card when I ran it in my Maelstrom Wanderer list, because LD is very much frowned upon in most EDH tables. From the Ashes attempts to fix this by effectively tacking Path to Exile on each nonbasic land you destroy. While this doesn't fix the problem for most decks running 3 or more colors, there's at least a marginal improvement on the political aspect, and the effect is sometimes a necessary evil.
Also, play with Flagstones of Trokair or Life From the Loam, For Value (TM)!
Sudden Demise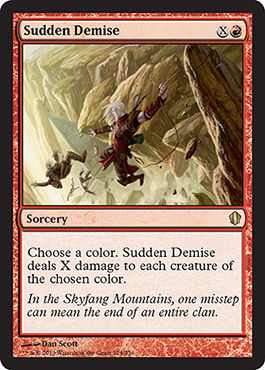 Rating – 3.5
I'm not going to lie, I'm a huge fan of this card. Red only really has one solid Plague Wind variant in Disaster Radius, and being able to get away with only hitting 1-2 players with this has saucy political becomings written all over it. The fact that the card also doesn't care if their creatures have wings or not makes it very strong overall, despite being an X spell.
Tempt with Vengeance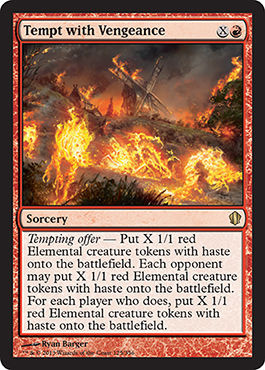 Rating – 2.5
I can see the potential in this sort of effect, as it beautifully blends Join Forces with Tempting Offer, making it everything Alliance of Arms wishes it could be and more. It's a little narrow, but it plays well with a lot of effects red can easily enable, and it's at its best alongside Shared Animosity and Crescendo of War.
Terra Ravager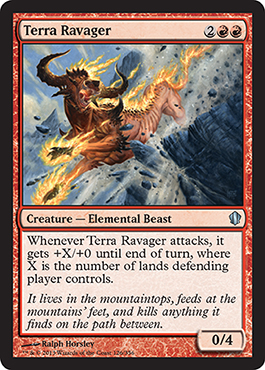 Rating – 1.5
To be honest, there's only one thing that the printing of this card tells me–that Wizards recognizes how popular ramp-based strategies are, and that cards like this are our supposed "answer" to them. I, for one, don't buy it; even a variant of Tunnel Ignus or something would have been better than this. It doesn't even have trample, for God's sake.
My frustrations aside, the card has its use, and is an above-the-curve aggro creature, but really, the fact that the archetype is continued to be endorsed as it rampages about the format just irks me, even if I utilize it myself. There should be some repercussion to it, and this is by far not it.
Widespread Panic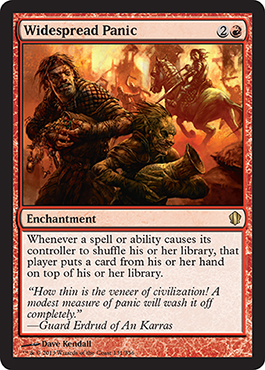 Rating – 3.0
I can't quite pinpoint how exactly I feel about this card. It's an incredibly strong effect, for sure, but if it's one thing its controller needs to be when it comes to this, it's careful. There are a bunch of effects that utilize the library in all colors (understandably, red is a bit short in this category), so proceed with caution when utilizing it. That being said, it's got an effect that's impossible to ignore, and will draw hate from the entire table if you're not careful.
Witch Hunt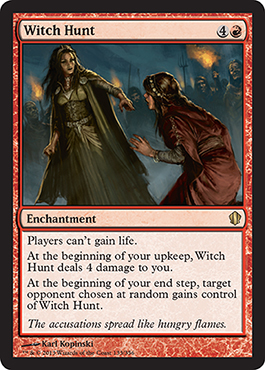 Rating – 1.5
There are interesting aspects of the card I do like, but really, I question the printing of a lot of red's new toys. Red is not in shortage of this sort of effect, and the power level of this card is by far not up to par compared to Stigma Lasher, and in black, Sorin Markov. Lifegain is also a thing that is prevalent in EDH, especially in the wake of Trostani, Selesnya's Voice, but really, you can be doing a lot better than this if you're gunning for the lifegain player.
Bane of Progress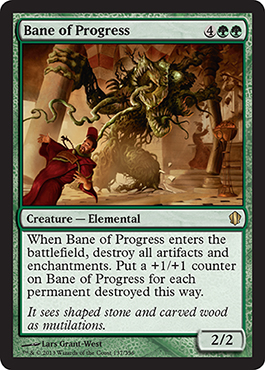 Rating – 4.0
HAUMPH. Bane of Progress is something to talk about, for sure. The utility and disruption it brings to the table is too strong for a lot of aggro decks to ignore, and being a creature, is a very good target for a blink or flicker effect. I for one believe that this card is a very necessary and powerful addition to the format, and am looking forward to getting to use it, myself.
Curse of Predation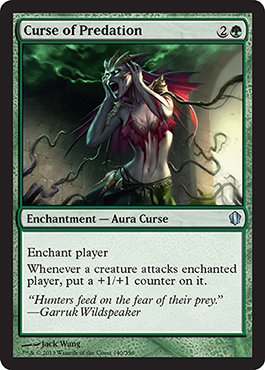 Rating – 3.0
Once again, green comes out on top. This is by far the best of the cycle, as +1/+1 counter enablers are always welcome, and there are many decks that would play Curse of Stalked Prey for the same reason. This card is leagues above it, and gives the creature decks far and wide incentive to kill someone while making their army massive at the same time. That being said, you're enabling opponents the same you're enabling yourself, so proceed with caution.
Naya Soulbeast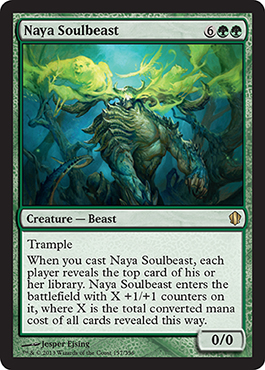 Rating – 1.5
There's a lot about this card I really just don't understand. For one, it costs a whopping 8 mana for being a creature largely based on luck. On average, this will rarely be efficient enough for how much it costs, and will even more rarely be able to do the damage it needs to do for the mana it costs. Trample is good incentive, but I don't like cards that have as violent a best-case/worst-case as this does. I mean, there's a very real chance that you can cast this and have a 0/0, effectively Time Walking yourself.
Primal Vigor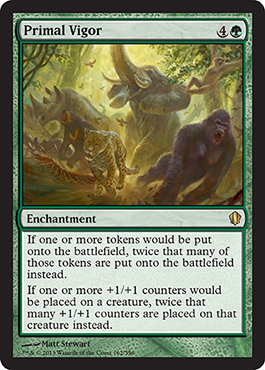 Rating – 3.5
Great.
Another one.
Restore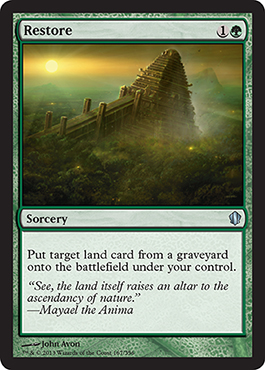 Rating – 3.5
There's something great that can be said of a card so simply yet so elegantly designed. If your deck utilizes fetches or relies on a specific land card for what it does, investing in this is a very good choice. The fact that it can hit any graveyard is just icing on the cake.
Spawning Grounds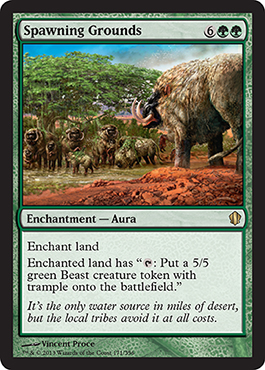 Rating – 2.5
I initially wrote this card off because of how expensive it is, but honestly, when you can get over the fact that you're paying 8 mana, the investment becomes very good. Activating this more than once is extremely powerful, and what adds to its value is how resilient the card is vs. creature-based sweepers. It's clunky and a big target, but its power level is impossible to ignore.
Tempt with Discovery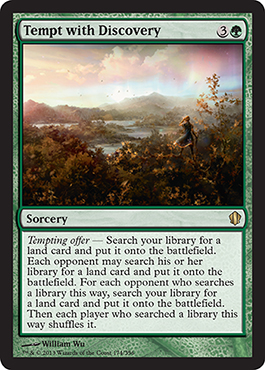 Rating – 4.0
Note the lack of the word "basic" in its text. Easily the best of the cycle by leaps and bounds, Tempt with Discovery will almost 100% of the time be the offer that no player can resist. This effect plays absolutely brilliantly with Cabal Coffers and Urborg, Tomb of Yawgmoth, Urzatron, Cloudpost, and can actually eclipse Expedition Map in certain situations, which really speaks to how absurdly powerful the card is. A personal favorite of mine from the set.
Derevi, Empyrial Tactician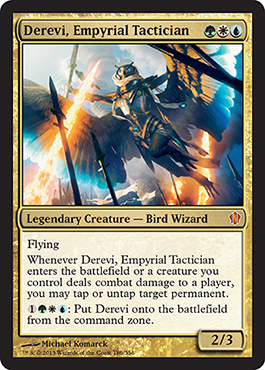 Rating – 4.5
Derevi really is no joke, and is by far one of, if not the most powerful general printed in this expansion. Playing this alongside a boatload of tokens, Gaea's Cradle and Helix Pinnacle is the least of the absurd shenanigans Derevi is capable of. Be prepared to see some truly unique and flexible plays come from this one, as Derevi is here to stay for the foreseeable future.
Gahiji, Honored One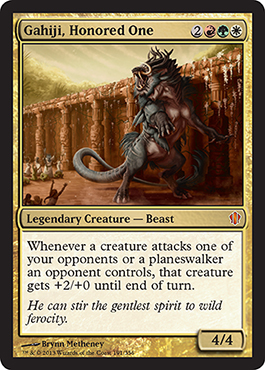 Rating – 2.5
I must say I'm disappointed in the fact that Naya didn't print an Equipment-based general, but honestly, that's wishful thinking on my part. Regardless, Gahiji is rather underwhelming overall, being shoehorned into either a token or pillowfort strategy, but it gives your opponents fantastic incentive to be killing your other opponents, though admittedly, not nearly as hardcore as Edric, Spymaster of Trest. (Let's be honest, though; Edric is just insanely powerful, and I'm sure Wizards didn't want to repeat that mistake, and thus didn't make this card nearly as powerful as it could have been.)
Jeleva, Nephalia's Scourge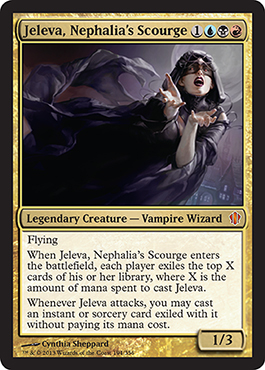 Rating – 3.5
Jeleva is by far one of the most fascinating effects introduced to the format – being able to cast a free spell by attacking. What Jeleva has in flashiness, however, she lacks in subtlety. Jeleva decks will always want to abuse this effect, casting something like Aggravated Assault or Enter the Infinite to combo out rather than just cross your fingers and hope for the best. It's not a deck I'd consistently use time and time again, as its game plan is very easy to stop and can get really boring after playing with or against it more than once, but it's a very powerful effect, and the angles you're able to take building the list are truly fascinating.
Marath, Will of the Wild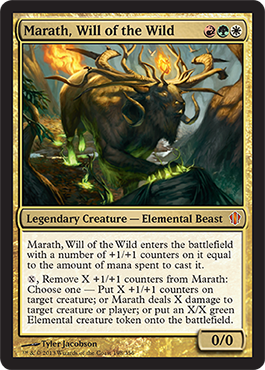 Rating – 4.5
I really enjoy what Marath brings to the table on his own. I've personally conscripted him to spearhead my shift from black to green in my Sunforger deck, and since the move, a lot of MTG Salvation's users question why I don't make the deck more tuned towards Marath. My answer will always be the same: Marath is very strong on his own, and doesn't require enabling to be a good card. His mana returns solidify him as a powerful general with or without nonsense like Illusionist's Bracers, Doubling Season or Mana Echoes. He's a 3/3 for 3 with multiple, flexible upsides. Is he the only one dying? Make your other beaters threats! Do you need another body? Make a dude (or multiple dudes!) Is everything destined to die? Make the player who's causing this hurt for his action! Overall, I thoroughly enjoy the design of Marath, and am looking forward to using him as my go-to general for the coming months.
Nekusar, the Mindrazer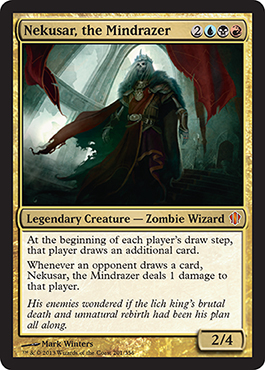 Rating – 4.5
There's a lot of hype about Captain Wheel and Deal, and rightly so – Grixis decks far and wide have employed the punisher strategy of Phyrexian Tyranny into Wheel of Fortune with subpar generals that don't at all enable this theme, and all of them will be delighted to add a general who not only is another Underworld Dreams, but is a Howling Mine on top of that. By far, Nekusaur is the Kaalia of the Vast of Commander 2013; insanely powerful, linear, but ruthlessly strong in doing so.
Oloro, Ageless Ascetic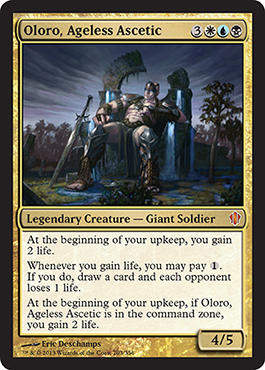 Rating – 4.0
Mark me down as a fan. For a while, I've wanted to build an Esper control list consisting primarily of sweepers and card draw, and Oloro fits incredibly well at the center of that strategy. Static lifegain from the command zone is also an extremely good thing to have around, as the effects that stop it are rarely seen. If I hadn't already made a five-color control deck, I would most certainly be building an Oloro list for myself.
Prossh, Skyraider of Kher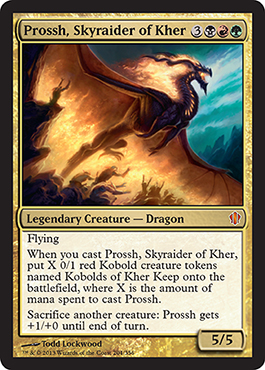 Rating – 4.5
Prossh is, by text alone, the most powerful general of the expansion. The fact that he hits 11 by himself and is enabled absurdly easily by his colors just makes him so ridiculously strong at just ending people. Double strike, trample, haste, hexproof and food; Jund is in no short supply of any of those effects (hell, just watch your opponents squirm when you get that Domri Rade emblem!), and Prossh is hungry to deliver a Voltron-packed punch all by his lonesome.
Roon of the Hidden Realm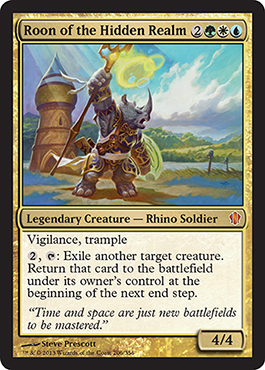 Rating – 4.5
Bant gets another home run here as they've printed a much-needed general, like Nekusaur in Grixis; he's insanely powerful if only because of how easily enabled he is by a multitude of effects. Bant decks all over have wished for their blink general, and here he stands. His biggest drawback is not being able to save himself, but of course, that would likely make him too powerful. Overall, like Nekusaur, a fantastic answer to the prayers of many an EDH player by Wizards.
Shattergang Brothers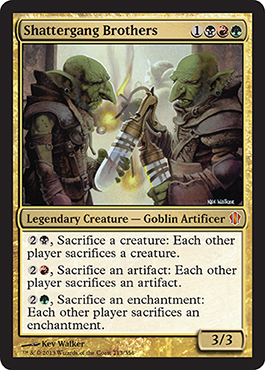 Rating – 3.5
I'm actually a really huge fan of the Shatter Bros., to be honest; I've been pining for a multicolored Grave Pact-esque general, and while my wish was granted, I'm actually sort of let down. The whole package is very strong, but the issue is how slow and clunky they can be. Costing 3 is a huge detriment to making proactive plays, but on the flipside, you're still causing mass disruption, beating the tar out of bubbles.dek, and with Reassembling Skeleton, Goblin Welder and Rancor, you even have color-corresponding cheerleaders for each ability. Look out for my list Soon (TM)!
Sydri, Galvanic Genius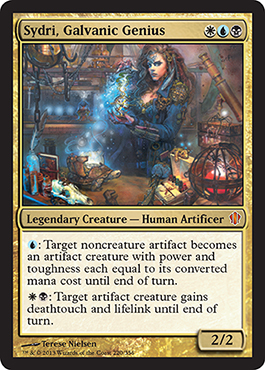 Rating – 3.5
I like Sydri just because slaying Consuming Aberration or Lord of Extinction with a Dimir Signet is absolutely hilarious to me. The lines of play in this are similar but altogether different from Sharuum, the Hegemon, and are much more politically-inclined. I enjoy what Sydri brings to the table, despite not quite being a fan of Esper artifact decks, myself.
Eye of Doom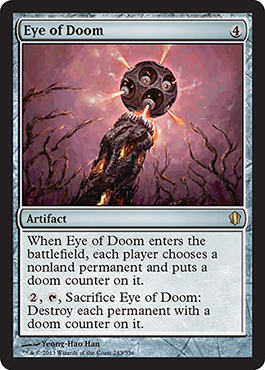 Rating – 2.0
I'm rather disappointed with the now-translated text on Eye of Doom. The card, when spoiled, was translated as:
When ~ enters the battlefield, each player chooses a nonland permanent they control and puts a fate counter on it.
2, T, Sacrifice ~: Destroy each permanent with a fate counter on it.
I was so excited to try this in Triad of Fates, you have no idea. However, after re-reading it, I was rather let down by the fact that this is a completely dead draw if you're public enemy #1. On the flipside, this has insane political ramifications if you aren't that player, but overall, the best-case/worst-case is fragile at best. It gets points, however, for being able to target the Hexproof Five.
Surveyor's Scope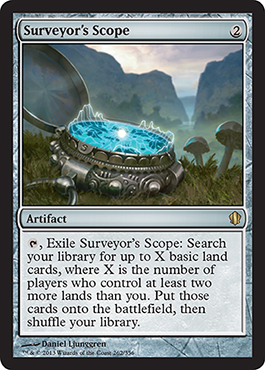 Rating – 4.0
I like what this does. I like that every deck has access to it. The fact that this is good both when you're stuck on lands and when even one person is ramping out of control makes this a rather powerful card overall. Obviously, exiling is so Trading Post and Sun Titan don't just abuse it.
Opal Palace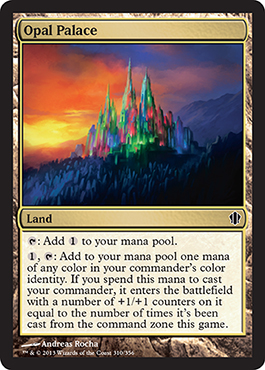 Rating – 2.5
I'm not going to lie, it's good. There are a lot of decks that can afford to run it. That being said, a Shimmering Grotto is still a Shimmering Grotto at the end of the day, and few generals will reliably make use of the +1/+1 counters. It's hard to make the effect truly worthwhile, but if you want to run it, there really are few decks that can't afford to.
CLOSING THOUGHTS
Phew, that was certainly a mouthful! My articles lately are getting extremely long. I'll try not to bore you too much with semantics in the future.
Next week, I'll probably try for a Halloween-inspired post, because there are a lot of people who enjoy the festivity of the holiday, myself included.
Until then!
~L
Check out my previous articles here:
Adapting to EDH Metagames:
Part 1 - http://thecgrealm.com/wordpress/?p=1177
Part 2 - http://thecgrealm.com/wordpress/?p=1252
Part 3 - http://thecgrealm.com/wordpress/?p=1317
Part 4 - http://thecgrealm.com/wordpress/?p=1370
Part 5 - http://thecgrealm.com/wordpress/?p=1454
Building on a Budget:
http://thecgrealm.com/wordpress/?p=1522
Choose Your Champion:
Part 1 - http://thecgrealm.com/wordpress/?p=1594
Part 2 – http://thecgrealm.com/wordpress/?p=1868
Part 3 - http://thecgrealm.com/wordpress/?p=2539
Dragon's Maze Prerelease Weekend:
http://thecgrealm.com/wordpress/?p=1810
Guidance:
http://thecgrealm.com/wordpress/?p=2548

Hits & Misses of:
Dragon's Maze -http://thecgrealm.com/wordpress/?p=1870
M14 –  http://thecgrealm.com/wordpress/?p=2295
Theros - http://thecgrealm.com/wordpress/?p=2508
Legen-Wait for It-Dary:
http://thecgrealm.com/wordpress/?p=2264
Let's Build:
Part 1 – http://thecgrealm.com/wordpress/?p=1606
Part 2 – http://thecgrealm.com/wordpress/?p=1595
Part 3 – http://thecgrealm.com/wordpress/?p=2214
Part 4 – http://thecgrealm.com/wordpress/?p=2278
Part 5 - http://thecgrealm.com/wordpress/?p=2303
Part 6 - http://thecgrealm.com/wordpress/?p=2310
Part 7 – http://thecgrealm.com/wordpress/?p=2323
Part 8 – http://thecgrealm.com/wordpress/?p=2336
Part 9 - http://thecgrealm.com/wordpress/?p=2341
Part 10 - http://thecgrealm.com/wordpress/?p=2525
Let's Talk M14:
http://thecgrealm.com/wordpress/?p=2228
Let's Talk Theros:
Part 1 - http://thecgrealm.com/wordpress/?p=2362
Part 2 - http://thecgrealm.com/wordpress/?p=2378
Planeswalking and You:
http://thecgrealm.com/wordpress/?p=2184 
Resource Management:
http://thecgrealm.com/wordpress/?p=2200
The Slippery Slope:
http://thecgrealm.com/wordpress/?p=2440
Trial & Error:
http://thecgrealm.com/wordpress/?p=2089