Hey, readers! It's that time of the week again. For those of you who aren't aware, I'm dedicating the month of August to my usual once-a-month Let's Build segment, taking submissions from my social media outlets and building the decks that you, the readers, want to see!
This week, I again turn to Tumblr for a submission by user thialen, who suggested a random legendary creature sitting in their binder – Borborygmos Enraged.
For those who don't know, I pitched this idea to my friend Drew when I started making articles for the CG Realm – I was going to make a decklist on MTG Salvation for each guild leader from the Return to Ravnica block. That idea didn't pan out, though 7 out of 10 of them did end up getting decklists – Isperia, Supreme Judge, Obzedat, Ghost Council and Prime Speaker Zegana proved either too out of my element, or someone else made a deck for one of them, and thus I felt making one was pointless. Regardless, when I was fawning over the foil copy of ol' Borbor at the store, telling Drew my idea for it, Drew gravitated towards it, sniped the foil Borbor, and built what he describes as one of his favorite and most successful EDH decks thus far. I am not taking credit for this idea. Nope. Not at all.
So what makes Borborygmos Enraged tick? Well, being a supersized Seismic Assault on legs with built-in card advantage is, strangely enough, volatile at 8 freakin' mana. You depend on Borbor sticking around most of the time to win, but it's not that difficult to make work.
The trick is to consistently have lands to chuck at people, which is surprisingly not that difficult with two mass Regrowth effects (one of which has flashback, too), stupid amounts of ramp, Groundskeeper and Life From the Loam.
CHOOSING YOUR GENERAL
Borbor is admittedly a pretty steep slope when it comes to finding a good general to build a deck around. The difference between this Borbor and its previous, much less interesting incarnation, is how easy it is to build around this Borbor. Damage doubling and having a lot of ammunition to chuck is pretty damn easy when you have the right cards.
There's also the possibility of making it a Voltron general since it's in the colors of multiple combat phases and damage doubling, but at 8 mana, depending on your general to connect more than once is a pipeline dream at best.
A BREAKDOWN OF YOUR GENERAL
4RRGG
That's a tall glass of water no matter how you look at it, and you can't just ramp yourself stupid with colorless mana rocks to make this work – having all the guild leaders cost two mana of each of their colors really hurts manabases that try to accommodate them. Luckily, being in green means that we have ramp spells, which really help Borbor become less frustrating to cast both the first and fifth time.
Legendary Creature – Cyclops
AWW YEAH CYCLOPS TRIBAL.
Please no.
Trample
Whenever ~ deals combat damage to a player, reveal the top three cards of your library. Put all land cards revealed this way into your hand and the rest into your graveyard.
I honestly could do without this ability, but trample makes realizing this ability not that difficult. For reasons I'll explain shortly, however, even that can be a problem at points. That being said, building around this ability is relatively simple and the payoff is really powerful if you can thin your deck of lands, recharging your machine gun of murder.
Discard a land card: ~ deals 3 damage to target creature or player.
Brrrrrrrrrrap! Borbor is basically the Scarface of Magic, telling you to say hello to his little friend before he either eats your utility dorks for breakfast or straight up blasts your face off. This ability is also extremely easy to abuse, and that will be covered later.
7/6
Here's where I have a bit of an issue. With 6 toughness, a lot of the creatures below his spot on the curve will trade with him or just outright best him in combat. (Specifically Sylvan Primordial, which is quite troubling, to be honest.) I honestly question whether he's worth it at 8, but regardless, I am not R&D…
WHAT DO YOU WANT TO DO WITH THE DECK?
The concept of this deck is extremely simple, like the Gruul themselves, when you look at the deck overall – you're chucking lands at people. You're aiming to kill them with the activated ability of Borborygmos Enraged.
It may seem difficult when you think that by himself, in a 4-player game, you'll need to chuck a grand total of 42 lands to get your opponents from 40 life to 0. That being said, there are ways to abuse his ability very easily, and the damage from Borbor in combat is difficult to ignore.
A single damage doubler cuts the amount of lands you need to use to kill your opponents in half. The deck runs three. With all three active, a single land punches opponents for 24 points of damage. You'll need 6 lands at that point to kill three players. And while it seems like Magical Christmasland, it really isn't that difficult to get at least one doubler online. The key is to play the deck politically while you let your opponents kill each other until then. Paying attention to your opponents' life totals is a very important concept when piloting this.
There's also Grafted Exoskeleton. Because a single damage doubler + the Exoskeleton also coincidentally means that it takes 6 lands to kill a table. How about that.
Now, while getting any amount of lands into your hand at a certain time may seem difficult, just bear in mind that you can always cut spells for more lands, and you have a plethora of options that not only return lands from your graveyard to your hand, but lands from the battlefield to your hand as well, giving you much-needed ammo to get those last few points of damage in.
CARD CHOICES
Since the deck depends on Borbor himself to function, you need to be making sure you can cast him. 8′s a lot to ask for, so we first pack the deck with accelerants to get you to where you need to be.
In-
Oracle of Mul Daya
Sylvan Primordial
Somberwald Sage
Cultivate
Kodama's Reach
Skyshroud Claim
Explosive Vegetation
Rampant Growth
Nature's Lore
Boundless Realms
Explore
Growth Spasm
Firewild Borderpost
Sol Ring
Exploration
Burgeoning
Rites of Flourishing
The next thing you need to do is make sure you have a bunch of lands in your hand at all times. Whether you're getting them from your deck, graveyard, or battlefield, when you have Borbor in play, you want to make sure you have plenty of ammo to shoot at your opponents.
In-
Groundskeeper
Eternal Witness
Krosan Tusker
Yavimaya Elder
Life From the Loam
Praetor's Counsel
Creeping Renaissance
Nostalgic Dreams
Seek the Horizon
Sprouting Vines
Storm Cauldron
Armillary Sphere
Next, we establish another important part of the deck – game-enders. When you have Borbor in play, you want to have to work as little as possible to kill opponents, so you want slots that double the damage he deals or makes it infectious and deadly.
In-
Illusionist's Bracers
Grafted Exoskeleton
Furnace of Rath
Gratuitous Violence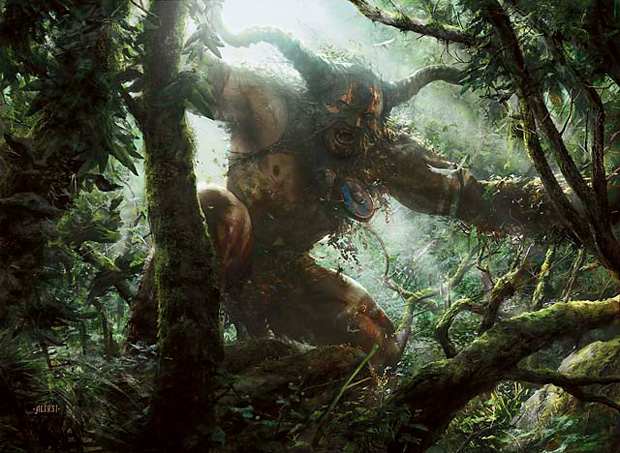 Lastly, we move to everyone's favorite category of card – the goodstuff! We have to be able to interact with opponents who give themselves or their permanents hexproof, or in general have problem permanents that you need to remove.
In-
Charmbreaker Devils
Vexing Shusher
Harmonize
Rain of Thorns
Reforge the Soul
Wheel of Fortune
Decimate
Krosan Grip
Worldly Tutor
Reiterate
Mind's Eye
Sensei's Divining Top
Planar Portal
Sylvan Library
Mirri's Guile
Garruk, Primal Hunter
Now that we've established our spells, we move to lands. Unlike most of the other Let's Build segments this month, I'm not going to throw every nonbasic color-enabler that's better than "somewhat decent" at this list, mostly because the deck requires a high number of basic lands to function. With that in mind, there are still some good color-enablers worth putting in.
In-
Gruul Turf
Taiga
Stomping Ground
Wooded Foothills
Fire-Lit Thicket
Cavern of Souls
Evolving Wilds
Terramorphic Expanse
The utility lands in the deck serve a number of purposes – if they aren't straight-up goodstuff lands, either they bounce lands you control, giving you more ammo for Borbor outright, or they put lands in your graveyard, which makes Life From the Loam that much better.
In-
Blasted Landscape
Slippery Karst
Tranquil Thicket
Smoldering Crater
Forgotten Cave
Reliquary Tower
Yavimaya Hollow
Valakut, the Molten Pinnacle
Vesuva
Thespian's Stage
Spinerock Knoll
Dust Bowl
Jungle Basin
Dormant Volcano
Now that we've covered the nonbasic slots, we move to our final spot, the basic lands. While most of the worthwhile spells in the deck do use green mana, with effectively three Valakuts in the deck, and the red spells generally costing 2 or more red mana, you want to have a fairly even amount of Mountains and Forests. I'm not sure if this is the right number, but feel free to experiment if it doesn't work for you.
And with that, we've arrived at our final product!
General (1)

Creatures (9)

Sorceries (19)

Instants (4)

Artifacts (9)

Enchantments (7)

Planeswalkers (1)

Basic Lands (28)

Nonbasic Lands (22)
CLOSING THOUGHTS
So there you have it, that's my take on Borborygmos Enraged! Feel free to make any edits you like if you don't like any of my card choices, but hopefully the base I've given you will encourage you to play around with the spells and land count as you please.
I'm still open to suggestions from either Tumblr or Facebook on what my next segment should feature, so if you have a general or idea you want me to make a deck based off of, feel free to submit those ideas to me!
Until next week,
-L
Check out my previous articles here:
Adapting to EDH Metagames:
Part 1 - http://thecgrealm.com/wordpress/?p=1177
Part 2 - http://thecgrealm.com/wordpress/?p=1252
Part 3 - http://thecgrealm.com/wordpress/?p=1317
Part 4 - http://thecgrealm.com/wordpress/?p=1370
Part 5 - http://thecgrealm.com/wordpress/?p=1454
Building on a Budget:
http://thecgrealm.com/wordpress/?p=1522
Choose Your Champion:
Part 1 - http://thecgrealm.com/wordpress/?p=1594
Part 2 – http://thecgrealm.com/wordpress/?p=1868
Dragon's Maze Prerelease Weekend:
http://thecgrealm.com/wordpress/?p=1810
Hits & Misses of:
Dragon's Maze -http://thecgrealm.com/wordpress/?p=1870
M14 –  http://thecgrealm.com/wordpress/?p=2295
Legen-Wait for It-Dary:
http://thecgrealm.com/wordpress/?p=2264
Let's Build:
Part 1 – http://thecgrealm.com/wordpress/?p=1606
Part 2 – http://thecgrealm.com/wordpress/?p=1595
Part 3 – http://thecgrealm.com/wordpress/?p=2214
Part 4 – http://thecgrealm.com/wordpress/?p=2278
Part 5 - http://thecgrealm.com/wordpress/?p=2303
Part 6 – http://thecgrealm.com/wordpress/?p=2310 
Let's Talk M14:
http://thecgrealm.com/wordpress/?p=2228 
Planeswalking and You:
http://thecgrealm.com/wordpress/?p=2184 
Resource Management:
http://thecgrealm.com/wordpress/?p=2200
Trial & Error:
http://thecgrealm.com/wordpress/?p=2089