It's that time of the week again, folks – time for another segment of August's running theme of Let's Build submissions. For those who aren't aware, I'm spending all of August taking submissions from Facebook and Tumblr and building the decks that you, the readers, ask me to build.
This week's submission comes from Tumblr user mtg-spot, who asked "I'd like to see Angus Mackenzie EDH."
This one was marginally less difficult to make once I got down to making card choices, but choosing how to go about it was much more of a difficult prospect. Blink would have been too obvious, and while I've maintained enough pieces for a nice blink shell, there was a card that somehow came to mind that really solidified the idea – Proclamation of Rebirth.
Proclamation was a card I've been meaning to build around for a very long time, and I'm glad I solidified the idea here. There are a lot of fringe abuse cases with this card, and one especially stands out, that I'll mention later. The trick is basically to be constantly casting or even forecasting Proclamation in order to consistently return your dead 1-drops to play.
CHOOSING YOUR GENERAL
For whose who don't know, Proclamation of Rebirth tends to revolve around looping massive amounts of lifegain. This shell of PoR is no different. Two big problems that decks that focus on lifegain tend to run in are 21 points of general damage, and Sorin Markov / Magister Sphinx. Angus does a good job of dealing with both, as the latter two cards tend to be followed up by a large alpha strike.
I had other ideas in my head like a Turbo-Fog shell with all the Howling Mine effects, and even a Voltron Angus deck, but I think settling on a Proclamation shell was for the best. I encourage you to try your hand at either of the other two strategies, though.
A BREAKDOWN OF YOUR GENERAL
GWU
Like Adun last week, the fact that it doesn't have colorless in its mana cost means that color-fixing becomes all the more important. Despite that, Angus is very cost-efficient for what he does, much like Adun.
Legendary Creature – Human Cleric
This too is not the worst thing, as Battletide Alchemist is a fantastic political weapon. That being said, not being black really hurts, making it an inferior tribal choice overall.
GWU, T: Prevent all combat damage that would be dealt this turn. Activate this ability only before the combat damage step.
This effect just kicks the stuffing out of Voltron decks everywhere, as unlike Maze of Ith and Kor Haven, the effect doesn't target, meaning they can slap on Lightning Greaves all they want and it doesn't mean a thing.
2/2
Lastly, the combat stats on Angus are pretty solid for being a Cleric who Fogs. Give it vigilance, 9 power and double strike and you have a pretty potent Voltron threat!
WHAT DO YOU WANT TO DO WITH THE DECK?
The trick of this deck is to kill them with one-drops that are incremental and surprisingly powerful. Never underestimate the underdog!
Proclamation of Rebirth is the glue that holds this otherwise seemingly fragile strategy together. Plenty of sacrifice outlets exist through the various one-drops I've included. There are also discard outlets that enable having enough one-drops to matter as well. The deck is extremely resilient against Wrath of God effects, as you can return your most potent threats extremely easily.
Your game-winning one-drops are typically Serra Ascendant, Scute Mob, Cosi's Trickster, Seedcradle Witch, Jace's Phantasm and Mikaeus, the Lunarch, who all provide the punch you need to make your dinky little army relevant. The fact that the Ascendant has flying and is automatically a 6/6 because of how EDH starts you at 40 life is just absurd, and opponents will be hard-pressed to keep it down without spot removal.
So overall, your gameplan is to use small 1-drops to disrupt their game plan and accelerate yours, while using your game-ending one-drops to chip away at chunks of their life totals at a time. It's slow, it's grindy, but with the attrition that Proclamation of Rebirth provides, you'll do fine at eventually grinding them out of the game.
CARD CHOICES
The first thing you want to do is establish your one-drops. There are 26 one-drops in the deck, so let's break them down by category.
The first category will be the "disruption" 1′s; the ones that destroy opposing permanents or in general interact with the opponent.
In-
Deftblade Elite
Judge's Familiar
Cursecatcher
Loyal Sentry
Gideon's Lawkeeper
Elvish Hexhunter
Ulvenwald Tracker
Heap Doll
Elvish Scrapper
Elvish Skysweeper
The next batch of one-drops are ones that accelerate our game plan either by giving us mana, gaining us life, or protecting our permanents.
In-
Noble Hierarch
Birds of Paradise
Mother of Runes
Soul Warden
Martyr of Sands
Weathered Wayfarer
Magus of the Candelabra
Sakura-Tribe Scout
Nephalia Smuggler
Devoted Caretaker
Lastly, we put in the aforementioned "win condition" one-drops, the ones that provide us the power we need to win the game.
In-
Scute Mob
Serra Ascendant
Cosi's Trickster
Jace's Phantasm
Mikaeus, the Lunarch
Seedcradle Witch
Lastly, we go over the rest of the deck's creatures, aimed at ETB's, tutoring, and generally producing value for the game plan.
In-
Fauna Shaman
Ranger of Eos
Sun Titan
Gaddock Teeg
Eternal Witness
Mnemonic Wall
Archaeomancer
Mistmeadow Witch
Deadwood Treefolk
Seedborn Muse
Coiling Oracle
Wood Elves
Mentor of the Meek
Devoted Caretaker
Next, we look at our suite of spells aimed at giving us card advantage through tutoring, card draw, recursion and ramp.
In-
Proclamation of Rebirth
Wargate
Kodama's Reach
Cultivate
Nature's Lore
Creeping Renaissance
Mystical Tutor
Citanul Flute
Chromatic Lantern
Skullclamp
Aluren
Rhystic Study
Mirari's Wake
Of course, with a wealth of great ETB's, what's the deck without a good amount of flickering, right?
In-
Ghostly Flicker
Cloudshift
Ghostway
Venser, the Sojourner
Lastly, we round out the spell slots with something every deck needs – removal.
In-
Austere Command
Krosan Grip
Swords to Plowshares
Hinder
Bant Charm
Aura Shards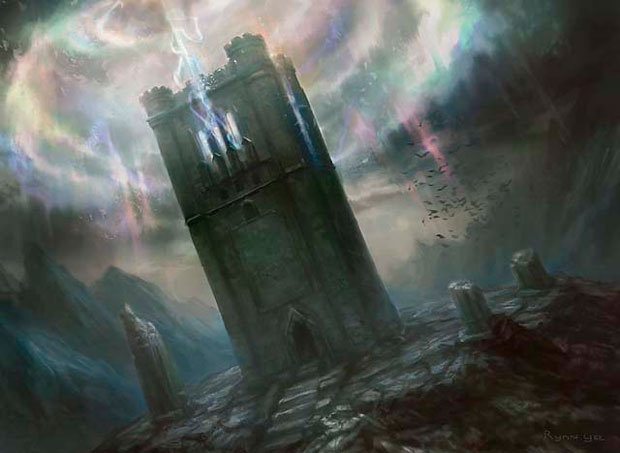 With our spells taken care of, we move on to our lands. To be honest, a lot of the utility lands in the color combination are also Fog effects, which the deck really doesn't require when its general is an unconditional Fog. That being said, I've focused a lot on color-enabling.
In-
Savannah
Tundra
Tropical Island
Temple Garden
Hallowed Fountain
Breeding Pool
Windswept Heath
Flooded Strand
Misty Rainforest
Command Tower
Reflecting Pool
Krosan Verge
Mystic Gate
Flooded Grove
Wooded Bastion
Nimbus Maze
Sunpetal Grove
Glacial Fortress
Hinterland Harbor
Seaside Citadel
Selesnya Sanctuary
Azorius Chancery
Simic Growth Chamber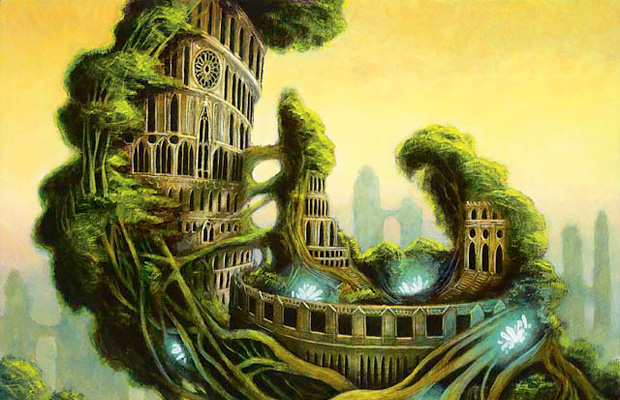 While there are few utility lands that really stand out in the colors, there are enough that despite how little actual utility they offer, it's better than nothing.
In-
Alchemist's Refuge
Celestial Colonnade
Mistveil Plains
Yavimaya Hollow
Horizon Canopy
Gavony Township
Now with the slots for nonbasics taken care of, we move on to the 8 slots left for basics. With more green and white cards in the deck than blue cards, the obvious odd one out was the Island.
In-
3 Forests
2 Islands
3 Plains
And with that, we've arrived at the final product!
General (1)

Creatures (39)

Sorceries (7)

Instants (8)

Artifacts (3)

Enchantments (4)

Planeswalkers (1)

Basic Lands (8)

Nonbasic Lands (29)
CLOSING THOUGHTS
So there you have it, my take on Angus Mackenzie! Thanks again to Tumblr user mtg-spot for your submission – I hope I gave you a satisfactory product to use!
I'm still open to any suggestions from you, the readers. Comment on the link to this article on Facebook or Tumblr and maybe your submission will be the next one I do in the series!
Until next week,
-L
Check out my previous articles here:
Adapting to EDH Metagames:
Part 1 - http://thecgrealm.com/wordpress/?p=1177
Part 2 - http://thecgrealm.com/wordpress/?p=1252
Part 3 - http://thecgrealm.com/wordpress/?p=1317
Part 4 - http://thecgrealm.com/wordpress/?p=1370
Part 5 - http://thecgrealm.com/wordpress/?p=1454
Building on a Budget:
http://thecgrealm.com/wordpress/?p=1522
Choose Your Champion:
Part 1 - http://thecgrealm.com/wordpress/?p=1594
Part 2 – http://thecgrealm.com/wordpress/?p=1868
Dragon's Maze Prerelease Weekend:
http://thecgrealm.com/wordpress/?p=1810
Hits & Misses of:
Dragon's Maze -http://thecgrealm.com/wordpress/?p=1870
M14 –  http://thecgrealm.com/wordpress/?p=2295
Legen-Wait for It-Dary:
http://thecgrealm.com/wordpress/?p=2264
Let's Build:
Part 1 – http://thecgrealm.com/wordpress/?p=1606
Part 2 – http://thecgrealm.com/wordpress/?p=1595
Part 3 – http://thecgrealm.com/wordpress/?p=2214
Part 4 – http://thecgrealm.com/wordpress/?p=2278
Part 5 – http://thecgrealm.com/wordpress/?p=2303 
Let's Talk M14:
http://thecgrealm.com/wordpress/?p=2228 
Planeswalking and You:
http://thecgrealm.com/wordpress/?p=2184 
Resource Management:
http://thecgrealm.com/wordpress/?p=2200
Trial & Error:
http://thecgrealm.com/wordpress/?p=2089